LogiCarré
LogiCarré is a game done during the Scientific Game Jam 2020, hosted by AtlanGames.
It's a game based on Antoine Cochard's work in the field of linguistics, he's subject was "Logical operators in the language".
In LogiCarré you have to reach the end, which is out of reach behind closed gates.
To open these gates you have to feed them the right for shapes based on what is written on them.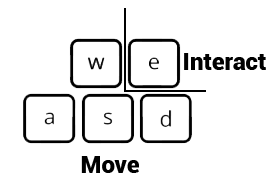 You can also interact with the Space Bar and use your mouse to navigate the menus.

Antoine Cochard : PhD Student - Level Designer
Samuel Barbeau : Game Programmer
Valentin Petiteau : Sound Designer
Nathan Tazi : Level Designer
Astride Couillaux : Game Designer - Level Designer
Baptiste Barreyre : Game Artist